We've noticed there has been a lot of criticism on the way Mike Ashley is running Newcastle United, and there has been a lot of criticism coming from independent sources.
That's simply because Newcastle have put themselves into such a mess by their rather stupid and reckless actions in January, and when interim head coach John Carver has  tried to defend their actions – it simply make things even worse – simply because it's hard to defend the indefensible.
Ashley – what is a football  club – it's a money-making machine of course

Here is a cartoon by Davide Squires, which was published in the Guardian, and it's a take on Bobby Robson's famous statement on what is a football club?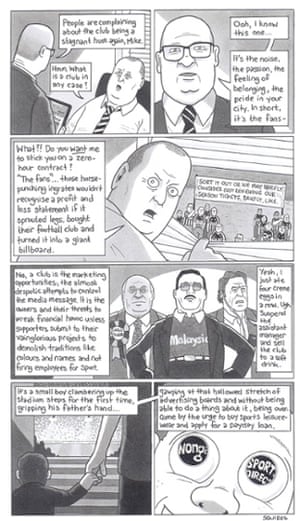 As a reminder – here are those famous words of the great Sir Bobby Robson on what is a football club:
"What is a club in any case?"  "Not the buildings or the Directors or the people who are paid to represent it." It's not the television contracts, get-out clauses, marketing departments or executive boxes."  

"It's the noise, the passion, the feeling of belonging, the pride in your city."  

"It's a small boy clambering up stadium steps for the very first time, gripping his father's hand, gawping at that hallowed stretch of turf beneath him and, without being able to do a thing about it, falling in love."
A football club should not be a money-making machine.
Football clubs are created to be successful for their fans, as a Deloitte Partner recently pointed out when the massive profits of the Premier League club were reported.
Mike Ashley has it completely the wrong way round.
Comments welcome.
You can follow us on our three social media sites.