It seems that the final shoe to drop in the Yohan Cabaye affair this summer has now happened, and the Newcastle manager has said today that Yohan Cabaye has been disciplined for his actions of refusing to play for Newcastle in the first two league games, and hopefully the affair can now be out behind us, and Yohan can start playing at his very best again for the club.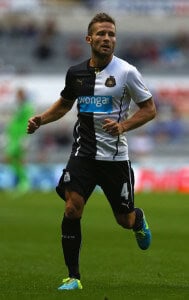 Yohan Cabaye – has been disciplined

Alan Pardew revealed today that the French International had been disciplined:
"He has been disciplined for his actions." "He has accepted that in good faith." "We can move on now." "It would be nice if the fans give him the support he now deserves."

"I know he is going to have a great season. Trust me, he's a fabulous player. He's very important to us." "I don't want to comment any further," 
And when something bad like this happens, Yohan Cabaye has an opportunity to make a good come-back from his mistake – and we hope he does just that, by playing at his very best and giving his all for the club, which is what he says he will do.
We're sure Yohan missing from the first game at the Etihad Stadium had a negative impact on the team, but that's water under the Tyne Bridge now, and we really hope the fans on Saturday will let Yohan know that all is forgiven – it's very important that we put this affair behind us, as Alan Pardew says.
But Yohan must now pay the club back for what he did, and from what Alan Pardew says, that's all the Frenchman wants to do – and that's good.
A win against Hull City is what we want to see,  and then we could even be in the top six in the Premier League on Saturday night – which we never were last season – so things could be looking up for Newcastle.
Comments welcome.
Follow us on Twitter, like us on Facebook and +1 us on Google+:
You can also reach Ed at admin@nufcblog.com