There's a report in the Record in Portugal that Sporting Lisbon are expecting a formal bid for Ruben Semedo from Newcastle this week.
And the new news today is that Spanish club Villareal have joined the race to sign the 23 year-old impressive center-back, who will play for the Portugal U21 side in the European U21 Championships to be held in Poland starting 16 June.
According to the Chronicle today a fee of £15M is going to be Newcastle's formal bid, but we wonder if that's in euros – so it would  only be £13M?


Here's the piece in the Record today about Villarreal joining the race.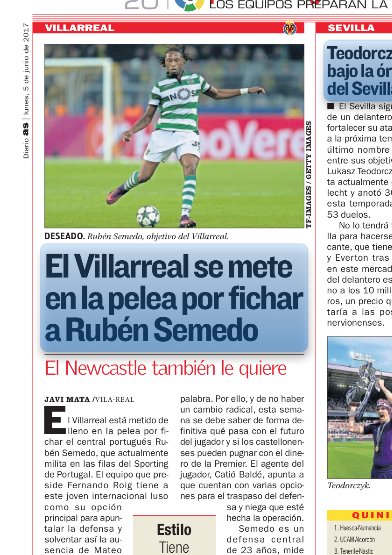 Semedo has a £39M  release clause in his contract, but there's no way any club is going to pay that for Semedo at this time – maybe in a couple of years, if he joins Newcastle he will be worth that much?
🙂
Indeed the word on Semedo is he's a player Rafa thinks has everything to become a world-class defender, but of course he's still a work in progress at the moment.
The Chronicle are also reporting the negotiations center on a sell-on fee Sporting are trying to negotiate and we wouldn't be surprised if that's 20%.
That means the Lisbon club would get 20% of any profit Newcastle make on the player if and when he is sold in the future.
You can hardly blame Sporting for wanting that, but it looks like it's the actual percentage that still has to be agreed on.
While the entry of Villareal into the race may look to be tough competition, it's not clear to us they will be much of a threat to Newcastle unless a couple of things are true:
Villareal can pay the full £15M up front in cool cash, like Newcastle will – but that has to be  doubtful
Ruben Semedo is very keen to join the Spanish club, but he's likely to want to come to the world's most popular sports league in the world – the Premier League
Ruben will certainly be getting a bigger wage than he would get at Villareal too.
Semedo's agent Catio Balde has apparently been in constant contact with Newcastle over the last few days and it seems he is now keen to do the deal – and earn some money for himself.
Make no mistake, if Newcastle can sign this lad he could become a really stellar signing for Rafa Benitez in the future and be a stalwart in the Newcastle defense for years to come.
He has that sort of mammoth potential that we hope Rafa can bring out of him and if anybody can that – it's Rafa Benitez.
What do you think?
Comments welcome.