Today is the day. June 30th. The final day of Rafa Benitez as Newcastle manager. A day that we all know has been brought about by the underhanded doings of owner Mike Ashley.
Though in true Mike Ashley fashion, he will not accept any responsibility and does not care who or what he destroys in the wake of his actions.
Yesterday, it was reported that Mike Ashley has laid the blame of Rafa's departure squarely at the feet of the Bin Zayed Group.
This has to be seen as a public relations move due to the tsunami of rage that has been directed at him by not only Newcastle fans but also by general football fans and media alike.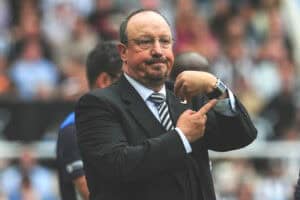 Rafa Benitez– Rafa's time is sadly up at Newcastle
If Mike Ashley is to be believed that it was the Bin Zayed Group that have ended the tenure of one of the most beloved manager's in our history, then Ashley should have no problem with giving Rafa a call and conceding to his demands if the takeover falls through.
Of course Mike Ashley would never do that and there's probably no way that Rafa Benitez would come back to Newcastle to work under Mike Ashley again. But Mike Ashley should not be let off the hook with his assertion that BZG are the culprits here and not him.
We are also concerned that Ashley may have sabotaged the takeover by making these possibly slanderous claims about BZG. If this takeover falls through in the next few weeks, which Ashley has also reportedly set as a deadline, he should be asked by the press if he will now contact Rafa Benitez.
Because we all know that with Charnley in charge there will be no manager appointed by then.