Newcastle have only added Joe Willock this summer which puts Steve Bruce's squad on par with last season. When asked about the likelihood of signings in recent days, Bruce hasn't sounded very convincing that anything is strongly brewing behind the scenes.
That was the case again this morning during his press conference for tomorrow's match against Southampton. Bruce was again asked about incomings and said the following as published in The Chronicle:
"I've got four or five in mind. Whether it will be possible to get them off the other clubs? That's always a problem.

"We've had our targets and the ones to look for and the ones to keep an eye on. We've had to wait because, usually, the bigger clubs will have a look.

"We're a big club ourselves – don't get me wrong on that – but a lot of people take pre-season and the last couple of games to look at their squad.

"Now, in the next two or three days, we've all got to name a 25-man squad. I think a lot of people are in a situation where there's going to be some disappointed players around because they're not going to make the 25, which is always a situation no one wants to have."
Bruce played the waiting game with Joe Willock and the plan remains the same for his other targets. He could strike lucky twice if one of these four or five targets become available. But we'll likely be waiting until deadline day to find out.
Bruce has spoken exclusively of loan signings recently with the claim that he has no more money to work with. Though an interesting link has surfaced over the past day or so.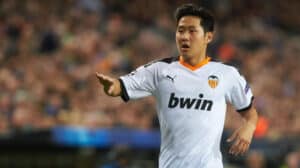 According to Alan Nixon with The Sun, Newcastle are monitoring the situation of Kang-In Lee, who has just one year remaining on his contract with Valencia.
Wolves Southampton and Newcastle taking a look at a late move for Kang-In Lee. Valencia midfielder. South Korean international. Being freed. Mallorca also trying.

— Alan Nixon (@reluctantnicko) August 27, 2021
Nixon is suggesting that Valencia will release the midfielder after being unable to reach an agreement for a new deal. However, that claim hasn't been verified anywhere else. In fact, it was just a few weeks ago that reports had his asking price at £8.5m. He reportedly has an astronomical release clause as well.
Valencia apparently will listen to offers for the South Korean but it's unclear if they would just release him for nothing. Though one potential reason to do so if they can find no takers is that he would take up one of Valencia's non-EU slots.
If Kang-In Lee does get released, he becomes an interesting prospect for Newcastle. At only 20 years of age, he wouldn't take up a squad place. Newcastle are currently at 25 players if Bruce names 4 goalkeepers.
He is a very versatile and skillful talent who could create some chances in and around the box. Though his finishing is very suspect. However, he doesn't turn 21 until February and has already racked up 62 appearances for Valencia. So he could be a decent addition if Valencia do decide to release him.
Loading ...