With Lille playing hardball over center-back Sven Botman, alternative targets are starting to do the rounds. Yesterday, Freiburg's Nico Schlotterbeck was mentioned as a potential target.
The German has a bright future at just 22-years-old and shares some similar qualities to Botman. He is entering the final 18 months of his contract unlike the Dutchman, who is tied down until 2025.
The Telegraph's Mike McGrath has added another name into the mix in Sevilla's Diego Carlos. Though at 28, he doesn't possess the future potential that makes Botman and Schlotterbeck so enticing.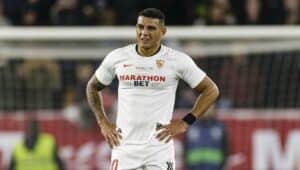 Carlos is right-footed, and with Newcastle reportedly coveting a left-footer like Botman and Schlotterbeck, he is not exactly a like-for-like alternative. Though he has attributes that would instantly improve Newcastle's backline
Being Brazilian, Carlos is very capable on the ball. He is considered an outstanding, if sometimes rash, defender, and is very good in the air. Though not to the extent of the younger duo. He has also been linked with the likes of Liverpool, Real Madrid, and Barcelona in the recent past.
Carlos joined Sevilla from Ligue 1's Nantes in the summer of 2019 for £13.5m. His current price tag would be around £30m making him a more expensive option than someone like Matthias Ginter, who has just six months left on his contract with Borussia Monchengladbach.
Luke Edwards, earlier today, reported that Newcastle prefer at least one of the two center-backs they hope to bring in have some Premier League experience. He named Arsenal's Rob Holding, Bournemouth's Lloyd Kelly, Burnley's James Tarkowski, Everton's Mason Holgate, Liverpool's Nat Phillips, and Tottenham's Joe Rodon as being on the extensive list of targets.
Newcastle likely haven't thrown in the towel on Botman just yet. Though the aim is to bring in defenders early in the window with Kieran Trippier inching ever closer to becoming a Magpie. So we'll see if this link to Carlos continues to bubble away or if it is fleeting like so many others.