Newcastle ended their three-game losing streak this afternoon with a 1-0 win over Brentford at home with the winner coming from Wilson with a penalty after 64 minutes.
While it certainly wasn't pretty, the result in this game was more important than the performance, and our lads stuck to it to get our second win of the season.
Newcastle did not look good at all in the first half – but it was much better in the second, and this win will give our boys confidence going forward.
And 9 minutes of added time at the end was a little nerve-racking.
Indeed, in qn earlier game today, Spurs were losing 1-0 at home to Sheffield United before they scored two goals in the 20 minutes of added time to win 2-1 – what's going on here?
We now have 6 points from 5 games – the same number of points as last season after 5 games.
And here is the photo we get with every win – the lads look very pleased!
🙂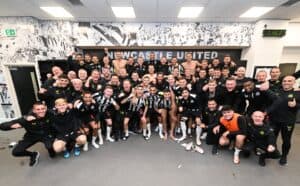 Here are the video highlights of the game today from NBC Sports.
And in detail here is the penalty award that gave Newcastle all 3 points – dare I say this looks like a soft penalty for us?
But Callum has nerves of steel and it was an excellent penalty, under so much pressure.
And on merit Newcastle did deserve the points, but we were nowhere near our best.
Let us know who you think our Man of the Match was.
Loading ...
Inter-Milan beat AC Milan 5-1 at home today – we play at AC Milan in the Champions League on Tuesday night.
Comments welcome.